A problem that customers sometime experience is broken detector wires. The Ludlum Models 43-2, 44-1, 44-3, and 44-21 are the most common detectors we have returned to us with this problem. The wires are often snapped when the end window cap is unscrewed to replace the mylar window or when the optical seal is checked.
The solution to this problem is simply to undo the connector end of the detector before unscrewing the window end of the detector. This will allow the internal parts to spin freely, thus relieving any tension on the PMT wires.
In the picture below, the probe on the left (A) shows how the window end cap should be removed. The probe on the right (B) shows how the wires are twisted if the end cap is removed improperly.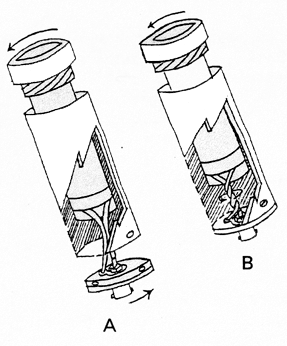 If you have questions about this or any other instrument problem, please contact our Repair Department by email at or by phone at (800) 622-0828.